How to Gain Confidence With Women When You're Introverted & Quiet
Are you an introverted man who struggles to approach and talk to women?  
Maybe you've heard a lot of extrovert biased dating advice that tells you to just white-knuckle your way through the awkwardness.
They tell you to "just put yourself out there", approach women and start up a conversation.
That sounds lovely in theory. But the reality of the situation is another story.
As an introvert with an overly active imagination, you might want to approach, but your mind goes blank and you overthink what you'll say to her. 
Perhaps, you're like many introverted men whose inner voice sounds like a military sergeant. 
It's always reminding you of your past failures in love and dating, as it simultaneously points out every excuse imaginable to NOT talk to a woman you like.
Maybe you know what you should do and say, but for some reason you blurt out the wrong thing and you keep making the same mistakes again and again. 
It's as if you're subconsciously holding yourself back. 
I don't blame you. 
The extrovert ideal of masculinity 
Your whole life you might have heard things like "be a man", the subtext being that only extroverts are truly masculine.
All the pressure to measure up to the extrovert ideal makes you self-conscious about your quiet nature. You wonder if an introverted man can really be attractive.
Maybe you've been Mr. Nice Guy for way too long. You can talk to women, but they always put you in the friend zone or take you for granted.
So, if you can relate, and you're an introverted man who…
* overthinks and has negative self-talk when it comes to women
* struggles to approach women and worries about not having enough to talk about
* is a people pleaser who gets taken for granted by women
* struggles with self-confidence and fears rejection in a very real way
Stick with me, darling. 
Getting my PhD in Dating
I'm an introvert through and through and I understand your unique dating challenges. Several years ago, I decided to open up to love and accept a date with any man who asked. 
I went on 100+ dates (just dates, not hooking up!) and gained a ton of insider secrets on dating and attraction. 
My friends joked that I got my PhD in dating, and I have to agree! But it didn't end there.
Since then, I've consulted with top dating and intimacy coaches, and even wrote a bestselling book on introverted charisma called The Irresistible Introvert.
Pretty early on I came to see that there are some widespread myths that actually block introverted men from gaining dating confidence and finding the woman of their dreams.
3 Sneaky Myths That Kill Dating Confidence & Keep Introverted Men Stuck
Myth #1: Quietness is unattractive
From a young age introverted men are taught that flirting is an extrovert's game. If you're quiet, you're a wallflower that women don't notice. 
This leaves introverted men wondering how to connect with a woman when you have no idea what to say to her. 
You wish you could express your true thoughts and feelings with women you like. But you feel inhibited. You just don't know what to say, and the more you like a woman, the harder it gets to find the right words.
The truth is that words do matter when it comes to attraction and dating. BUT that doesn't mean you have to be an extroverted smooth talker.
Myth #2: Dating is difficult and scary
Many introverted men find dating insanely overwhelming. You spend so much time inside your head before the date, fantasizing, worrying, and judging, that it's impossible to relax. 
The moment you see dating as something heavy, difficult, and scary, every date feels about as fun and romantic as an office cubicle. But there's a better way.
Dating can be lighthearted, easy, and even fun. The secret is to master the key Desirable Man Mindsets beforehand, as well as know the step-by-steps to flirt with confidence.
Myth #3: Introverts suck at flirting 
If you feel inhibited when you talk to women you like, you're not alone. Many introverted men struggle to flirt with women.
Even if you have a logical understanding of how flirting works, your brain is way too busy worrying about what she thinks of you and what to do with your hands to implement complicated flirting strategies.
You accept that you suck at flirting and always will. But wait a second.
What if flirting was a skill like any other and there was a way to do it that actually plays to your introverted strengths? 
As an introvert, you're actually ahead of the game because you understand the importance of what's going on beneath the surface. 
Here are the facts:
* You can master the 7 attraction factors that make women want you, even if you're introverted
* You can learn the step-by-steps to become an irresistibly self-confident man—no extroversion needed
* You can make small, easy tweaks to your body language and appearance that make women want you
* You can master a framework for fun, flirty conversations, even if you're normally quiet and awkward
* You can crack the female code and understand what a woman wants, so that you become her prize
My Desirable Man Masterclass gives you a blueprint to become a better man and naturally attract the kind of woman you deserve. Because here's the thing.
To attract your ideal woman you have to BE her ideal man. PLUS convey those attractive qualities when you meet her. 
This is where a lot of introverted men get stuck.
You know you have qualities that women want, but you don't know how to express your attraction factors when you first meet a woman. 
My Desirable Man Masterclass Gives You Tools To Become a Better Man, Flirt With Confidence, And Attract Your Ideal Woman— Even If You're Introverted And Shy 
With Desirable Man You Discover… 
Attractive qualities that draw woman in naturally, without manipulation or games
A magnetic confidence framework with clear steps to be more self-assured with women you like 
Female psychology secrets to get inside her head, know what she wants, and be the man she can't stop thinking about
Steps to meet and approach women in the most introvert friendly way possible—no sleazy PUA!
Body language secrets to exude masculinity and draw her in without words
Conversation hacks to confidently flirt and create chemistry, even if you're normally quiet
Insider tips to excite and enthral a woman on a first date and beyond
Limited time bonus: Eliminate Your Love Blocks Workshop ($99 Value)
Take a Peek Inside:
**You'll receive access on the same day you join.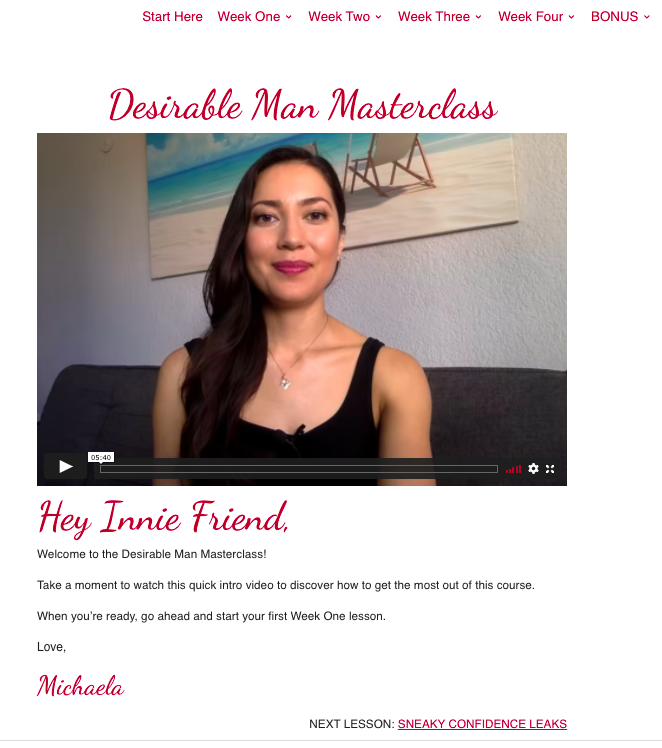 #Week 1:

Desirable Man Mindsets
* Receive Desirable Man mindsets that set you apart as a confident, high value man that women are magnetically drawn to
* Create a badass Desirable Man Solar System that instantly boosts your attractiveness to women and skyrockets your confidence
* Uncover your "confidence leaks" and get proven tools to overcome your dating fears
Week 2: Cracking The Female Code
* Get inside the head of your ideal woman and understand what she wants and how YOU can give it to her
* Discover the 7 attraction factors that make women want you and how to master them as an introvert
* Understand the tests women put you through by text and in person and how to ace them every time
Week 3: The Woman Whisperer
* Get practical steps to approach women online and in person in a way that creates an instant spark
* Receive introvert specific tips on where and how to meet women, without getting exhausted and overwhelmed
* Discover how to set the mood and excite a woman, so that you never get put in the friend zone again
Week 4: Flirting Confidence
* Receive word-for-word examples and scripts to have flirty conversations that feel natural 
* Discover first meet and phone strategies to hook a woman and stop her from flaking on you
* Understand the key topics and questions to focus on when talking to a woman you like, and how to keep the conversation flowing
* Master body language secrets and physical appearance so you're even more appealing to your ideal woman

Meet Your Mentor: Transformational Introvert Coach & Author Michaela Chung
Michaela Chung is the author of the Amazon bestseller, The Irresistible Introvert. She is an expert on introversion with a rich background in communication and self-development strategies.
Best known for her popular website, Introvert Spring, which has received over 2.7 million visitors since its creation, Michaela has been prolific in sharing her expertise on the topic of introversion. She's been featured in Forbes, Huffpost, The Globe and Mail, INC, FLARE Magazine, CBC Radio, and The Chicago Tribune, to name a few.
Praise For My Methods:
"With Michaela's coaching I was able to gain the confidence and game plan to pursue the right women for me and find my wife! Even though it was a pandemic, Michaela helped me to meet my first girlfriend who I have just recently married. I have no doubt that Michaela helped me make this happen."  – Toby B., Dating Coaching Client
""I am happy to recommend Michaela's personal coaching for dating and relationship success. I have been amazed at how quickly things have manifested in my life by following her advice. I started by using Michaela's system that showed me how to become a more naturally attractive person… I was approached by a beautiful young woman and we immediately engaged in a heartfelt conversation. I am now in the process of getting to know what an awesome woman she is." – Peter B., Dating Coaching Client
"By the third month I had women coming into my life who were what I considered to be ideal. It's difficult to explain but she will teach you how to improve yourself and your life to where you will attract the right people into it. 
Michaela also gave me excellent practical coaching with regard to dating. Everything from conversation starters to style advice was covered and she knows what she's talking about. She will not attempt to change who you are at your core, she will just help you develop and present your best self." –Travis P., Dating Coaching Client
"You are VERY good at what you do. I can't believe what you uncovered in just one weekend." – B, Dating Coaching Client
"As someone who is more apt for self-study, the interactions with Michaela along the way ensure that I'm on the right track and are encouraging to keep going forward.  It's this level of interaction that I feel has made a big difference for me.  I couldn't recommend coaching and learning from Michaela enough."  Thanks!​ – Josh G, Confidence Coaching Client
"I hope you realize that your conclusions were beyond the grasp of no less than two counselors, both of which held a Ph.D in psychology and a few random social workers.  You cracked the code I had been working on for decades.  You helped me find myself at the ripe old age of 59, but as the old saying goes, better late than never I guess.  Anyway, I don't know where you came from but thank god you're here." – Brian K., Breakthrough Coaching Client
Joining Desirable Man today could mean the difference between spending YEARS stuck in the same heartbreaking patterns, feeling disconnected, rejected, and undesirable …
​VERSUS feeling open, and confident on date, and finding the right woman.