Be Assertive & Gain Respect as an Introvert
Without Being Arrogant or Rude
Do you find it hard to set boundaries and be assertive?
Maybe you're an introvert who tends to people-please to prevent conflict and avoid disapproval.
But there's a problem.
The more you try to please people, the less people seem to respect you.
You end up feeling depleted and discouraged. And yet…
You may have a deep fear of voicing your true thoughts and being more assertive with friends, family and colleagues.
On top of this, you may not know HOW to do so without coming off as aggressive or arrogant.
After all, you've dealt with "assertive" extroverts before who were really just bullies. You wonder…
Can an introvert truly be assertive?
Introverts absolutely can become authentically assertive. Because here's the thing.
REAL assertiveness is a win-win for you and the people in your life.
It helps you to feel less stressed and anxious when things don't go as expected.
You'll worry less about what others think and learn to trust yourself.
You'll also feel more satisfied with your job and in your personal relationships knowing that people respect your thoughts, opinions and boundaries.
Of course, you'll feel less drained too because you'll be able to say "no" without guilt.
That's why I created my NEW Introvert Assertiveness Workshop.
Finally you can trust in a step-by-step assertiveness framework designed with the specific challenges of an introvert in mind.
With this 1.5-hour Introvert Assertiveness Workshop you'll discover how to…
Communicate assertively in your personal and professional relationships, even if you're normally quiet

Confidently set healthy boundaries without conflict, anxiety or guilt

Stop people-pleasing so that you can gain respect and feel appreciated

Skillfully handle conflict in a way that actually improves your relationships

Influence others and become a natural leader—all while honouring your introversion!
You'll also receive a workbook containing exercises and questions to support your assertiveness journey.
REGISTRATION IS NOW CLOSED
What People Are Saying About My Methods
Michaela also helped me to develop healthy boundaries and be more assertive. I especially enjoyed the communication practice and how it's helping me to initiate conversations.
Richard B.
As an INFJ people pleaser who puts everyone else's needs first, I felt like I was at the end of my rope. I was amazed at how quickly I was able to be more assertive, set boundaries, and prioritize self-care.
Edith
I now have a lot more confidence in my approach with people and also has helped me identify other people's possible strengths and weaknesses.
Wayne B.
Does Assertiveness Training Work For Introverts?
My assertiveness tools work even if you're normally quiet and get stressed by confrontation.
They work even if you tend to overthink your interactions and constantly worry about what others think.
THEY WORK if you're an introvert through and through like me. Period.
Here's the info for the workshop:
Topic: Introvert Assertiveness
Date: Saturday, Oct. 29
Time: 10:00 am – 11:30 am PST
Cost: $49.00
Part 1
In the first half of the workshop, we'll lay the groundwork for assertiveness by outlining boundaries and clarifying when and how to assert them. We'll also do easy exercises to build a more courageous mindset and naturally exude confidence.
Part 2
In the second half of the workshop you'll discover communication secrets to handle conflict and gain respect. You'll also receive smart techniques to influence people and be a natural leader—all while staying true to your introverted nature.
REGISTRATION IS NOW CLOSED
Frequently Asked Questions
What's Included?
The 1.5-hour live workshop includes steps, exercises and techniques to accelerate your results. You'll also receive a companion workbook to reinforce what you learned.
What makes this different than other assertiveness workshops?
This workshop was created based on my 9 years of experience working with hundreds of introverts to help them develop social skills and confidence.
All that is to say that I have faith that if you put these techniques into practice you WILL see results. If by chance you don't, no worries. We have a 30-day guarantee (see details below).
Is there a guarantee?
Yes! Go through the workshop and if for any reason you're not satisfied you're backed by our 30-day money-back guarantee.
I don't have a lot of time right now, can I do this later?
Absolutely! The workshop will be delivered live, but you'll have lifetime access to the recording and workbook so you can do it at your convenience. However, I do recommend that you buy the workshop now while it's available.
It is possible to develop real assertiveness and gain respect as an introvert.
Imagine how it would feel to stop people-pleasing and stressing about what others think…
And start confidently asserting your needs and boundaries without guilt.
Whether you want to gain respect at work, or feel more appreciated in your personal relationships, the Introvert Assertiveness Workshop will give you exactly what you need to do it.
And it's easier than you might think. With introvert-specific steps and scripts which I'll clearly outline in the workshop, you'll know exactly what to do to become authentically assertive faster.
Saying YES to assertiveness could be the difference between feeling disrespected, overlooked and unappreciated—versus confidently winning respect and acceptance in any social situation.

About Michaela Chung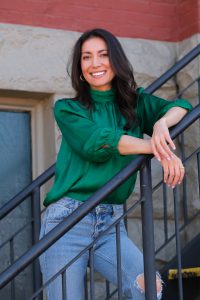 Michaela Chung is an introvert confidence and dating coach and author of The Irresistible Introvert. She's been featured in Forbes, Huffpost, CBC News, the Globe and Mail and more.
I love listening to you Michaela. You are so bright, fun and bubbly. You make the lessons and webinars so easy and are wonderful for getting your message out there in a fun and creative way.
Maria Buckley
You really understand all the problems introverts struggle with (introvert energy, giving yourself permission to end a conversation). Thanks for creating that course.
Amy V.
It's scary how deep you seem to be inside my head with this course. I loved the worksheets. Now that I'm getting past my own self-sabotaging and insecurities I see the amazing opportunities out there.
BJ Pivonka