How to Make Real Friends as an Introvert
Even If Socializing Overwhelms You
Do you feel like it's impossible to make real friends as an introvert?
As an introvert, you need your alone time, but that doesn't mean you're immune to the sting of loneliness. You crave connection, but not just anyone will do.
You want real, meaningful friendships with the right people. But there are invisible blocks getting in the way….
4 Introvert Friendship Blocks
Social overwhelm
A lot of people mislabel introverts as anti-social. The term "selectively social" is more accurate. The truth is that socializing can be incredibly overwhelming and draining for introverts.
Trouble letting people in
As much as you might want to open up and get close to people, you put up walls that make it seem impossible. You feel frustrated that you can't just "loosen up" like everyone tells you to, and truly let people in.
Feelings of unworthiness
Deep down, you may feel unworthy of the beautiful, accepting friendships that you long for. It's not your fault. Introverts grow up feeling like there's something wrong with us. But the real problem is that you've been following the wrong extrovert-biased advice on making friends.
Trouble maintaining friendships
Like most introverts, you find it tricky to balance your need for alone time with your need for connection. You keep people at arm's length, and forget to keep in touch.
If you can relate to the above introvert friendship blocks, you're not alone. Most introverts can relate to your loneliness and frustration.
As an introvert, you know how it feels to…
Be told that you're intimidating, snobby, or aloof, even though you're a kindhearted person.
Desperately want to connect, but HATE all the small talk and mindless chatter that comes along with meeting new people.
Fear that you're too boring, quiet, and introverted for anyone to want to be your friend.
Settle for incompatible friends who leave you feeling drained and unseen.
I know exactly how you feel! I'm an introvert, too, and I grew up feeling like there was something inherently wrong with me.
For a long time, I settled for shallow friendships that made me feel more alone than when I was by myself. But then I did something totally counterintuitive.
I started learning and writing about introversion. Not only that.
I became obsessed with helping introverts like me develop confidence and connections on our own terms.
I even wrote a book called the Irresistible Introvert (an Amazon bestseller) on how to develop charisma as an introvert.
I discovered that it is possible for introverts to cultivate deep, fulfilling friendships, without suffering constant overwhelm.
You can quickly build rapport with people YOU find interesting.
You can naturally attract your ideal friends, and be the kind of person people want to get know.
Imagine if you could quickly bust through your introvert friendship blocks, let down your walls, and form meaningful connections.
I'm talking about the kind of friendships that make you feel accepted, seen, and heard. Instead of feeling like a chore, these friendships feel easy and fun.
It's easy when you know the tools and shortcuts which I share in my 4-day course, Introvert Friendship Quickies.
With Introvert Friendship Quickies, you'll discover…
How to overcome your biggest friendship blocks and make real connections.
6 Friendship factors that everyone looks for and how to master them
How to be more approachable, even if people normally find you intimidating.
Mindset tricks to overcome social anxiety and feelings of unworthiness
A 5-step formula to master meet and greet, even if socializing overwhelms you.
A connection cheat sheet to prepare for any social event and make friends faster.
Secrets to be interesting, even if you're quiet and worry you're too boring
Tips to nurture and keep friendships when you tend to push people away.
How to let down your wall and build rapport quickly, even if you're normally guarded.
Videos, exercises and tools to make finding your ideal friends easy and fun.
LIMITED TIME BONUS: Self-Love Blueprint (4-Week Online Course)
Time Sensitive Bonus:
Self-Love Blueprint ($100 Value)
With this 4-week online course, you'll discover…
Step-by-steps to make self-love inevitable, without overwhelm and overthinking

Proven core mindset shifts that flip the self-love switch and make you fall in love with YOU

Practical tools to keep you motivated—no more getting stuck in old habits of self-sabotage!

 Powerful techniques to blast through your self-love blocks, even if you've had low self-esteem for years

Lifetime access to all course materials, so you can continue your self-love journey
JOIN FRIENDSHIP QUICKIES NOW FOR $99
After registration you'll receive access links via email.
What People Are Saying About My Methods
The biggest thing I got from the course was the use of shields and my biggest one was the 'fear of intimacy'…After years of dabbling in self help and searching for why I felt lost and that feeling of something wrong with me I feel so happy to have found you.
Chantal
What I especially value about all of these lessons is the straightforward way you explain concepts, the real-life examples you provide, and the "safe space" environment you provide for this class.
Amy L.
I really got a lot out of the course. I learned from all of the webinars. You really understand all the problems introverts struggle with (introvert energy, giving yourself permission to end a conversation). Thanks for creating that course.
Amy V.
Does this really work for introverts?
The Introvert Friendship Quickies tools work, even if you've tried other self-help books, articles, and courses that overwhelmed you.
Introvert Friendship Quickies is designed by and for introverts.
PLUS the compact 4-day format makes it easy for you to go through the materials quickly and revisit them as often as you need to.
The Introvert Friendship Quickies tools work, even if you're easily overwhelmed and hate small talk.
We address your introvert specific challenges, so that you can make friends on YOUR terms. No extroversion needed.
Last but not least, the Introvert Friendship Quickies tools work even if you feel so discouraged you've all but given up.
JOIN FRIENDSHIP QUICKIES NOW FOR $99
After registration you'll receive access links via email.
Frequently Asked Questions
What's Included?
The 4-day quickie course includes steps, exercises and techniques to accelerate connection. 
Day 1: Overcome Introvert Friendship Blocks (30-minute video)
Discover the secret to busting through the sneaky friendship blocks that have been preventing you from finding and keeping your ideal friends.
Day 2: Attract Your Ideal Friends (30-minute video)
Get practical steps to start attracting your ideal friends today, even if you're quiet and shy. You'll discover how to master the 6 friendship factors everyone looks for, and have your pick of amazing people.
Day 3: Let Down Your Wall & Build Rapport (30-minute video)
Now that you have your pick of friends, get the tools and mindset tricks to finally let down your wall and let them in. You'll also get a 5-step formula to master meet and greet and form real connections.
Day 4: Maintain and Deepen Friendships (30-minute video)
Find out how to turn acquaintances into fulfilling friendships, even if you're afraid to let people in. You'll get steps to deepen your connections and have the kind of easy, comfortable friendships you had as a kid.
What makes this different than other social skills courses?
This course was created based on my 9 years of experience working with hundreds of introverts to help them develop social skills and confidence.
All that is to say that I have faith that if you put these techniques into practice you WILL see results. If by chance you don't, no worries. We have a 30-day guarantee (see details below).
Is there a guarantee?
Yes! Go through the course and if for any reason you're not satisfied you're backed by our 30-day money-back guarantee.
I don't have a lot of time right now, can I do this later?
Absolutely! You'll gain instant access to all course materials and you can do them at your own pace.
It is possible to build fulfilling friendships as an introvert.
Imagine how it would feel to stop self-isolating and trying to do everything on your own.
And start confidently making and maintaining real friendships with the right people.
Whether you want to cultivate a small group of friends to hangout with on weekends. Or find that one best friend you can do everything with…
It's easier than you might think. With introvert-specific steps and techniques, which I'll clearly outline in the course, you'll know exactly what to do to build meaningful connections faster.
Saying YES to friendship could mean the difference between countless lonely nights wishing you had someone to talk to VERSUS having close friends with whom you can share dinners, movies, trips, and quiet nights in. 
JOIN FRIENDSHIP QUICKIES NOW FOR $99
After registration you'll receive access links via email.

About Michaela Chung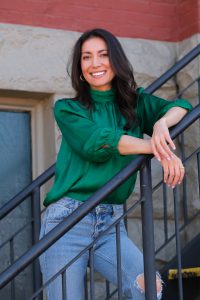 Michaela Chung is an introvert confidence and dating coach and author of The Irresistible Introvert. She's been featured in Forbes, Huffpost, CBC News, the Globe and Mail and more.
My colleague became a lot more at ease with me and we laughed and had a really good time! At the end of the day she even hugged me and we thanked each other for a really nice day!
Helena S.
I love listening to you Michaela. You are so bright, fun and bubbly. You make the lessons and webinars so easy and are wonderful for getting your message out there in a fun and creative way.
Maria Buckley
It's scary how deep you seem to be inside my head with this course. I loved the worksheets. Now that I'm getting past my own self-sabotaging and insecurities I see the amazing opportunities out there.
BJ Pivonka