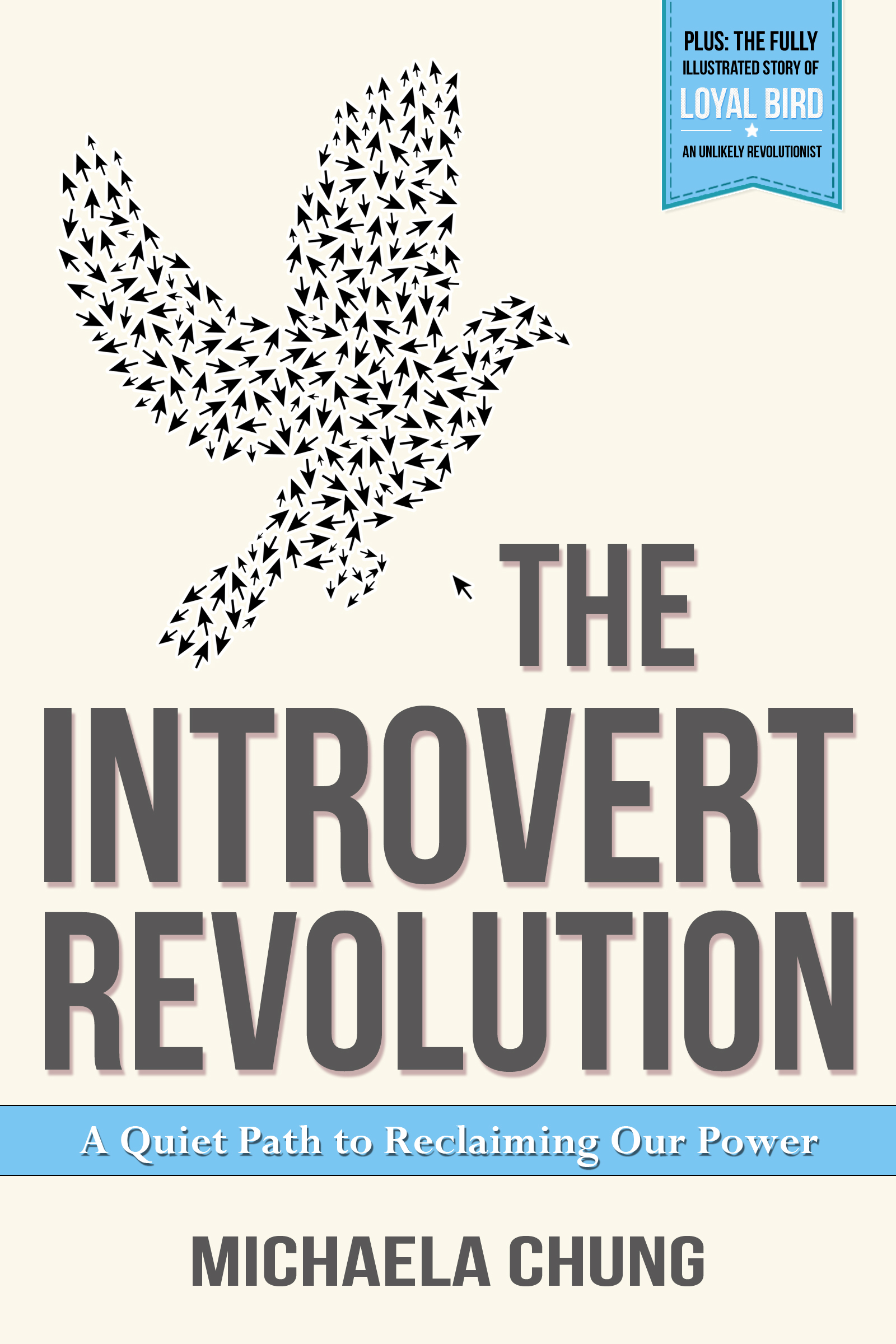 The Introvert Revolution: A Quiet Path To Reclaiming Our Power
In this inspiring ebook, Michaela Chung invites introverts to peel back the mask of extroversion and discover the hidden treasures of their true personality. Instead of trying to fit in, she encourages introverts to reshape their world to fit them. The fully illustrated story of Loyal Bird: An Unlikely Revolutionist is also included within the ebook.
"An excellent book for anyone who is trying to make sense of their own introverted nature. Particularly recommended for partners or close friends of introverts, who need to understand the subject from 'a standing start'." ~ Colin M.
"I really enjoyed reading The Introvert Revolution. Very inspiring and insightful. I recommend it to everyone. Introvert folks it's our time to shine!" ~ Cristian Q.
"This is a very well written, empowering and inspiring book. I would recommend it to anyone that would like to understand, accept and appreciate being an introvert." ~ Joyce S.
"This is a must read for anyone who has introverted tendencies, no matter where you are on the spectrum. In a world that understands and lauds extroverts, reading this is a relief and a help in understanding the introverted aspects of ourselves." ~D.E. Wilhelm
Buy Now FOR $5.99
Just noticed, I'm reading every mail you sent! Thanks a lot, you are part of my "evolution".
I have no words to express how it can help me!
Morgane, Belgium
Gifts For You
Signup to receive a free ebook + energy recharge resources + my weekly newsletter. Get Gifts
I must say, i was more than once very surprised and impressed by your messages. Your work is really very good and introspective. Marc, USA
Subscribe To My Newsletter
Signup to receive email love & gifts. Join Now
Michaela Chung is an introvert author, coach and entrepreneur. Her first book, The Irresistible Introvert will be out July 5th 2016. Copyright: © Michaela Chung 2016