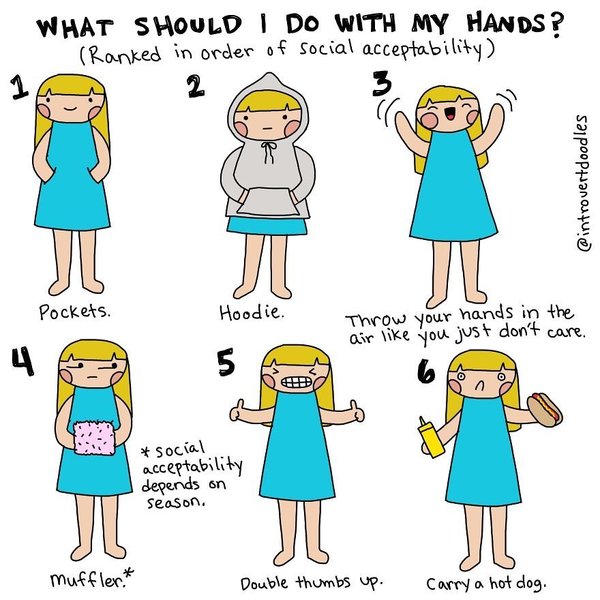 Introvert Doodles Book Review by an Introvert Author and Blogger
Have you seen those cute, funny, and oh-so-true little comics by Maureen "Marzi" Wilson floating around the Internet? Okay, maybe "floating" isn't the right word. Marzi, the creator of Introvert Doodles, and her images have been doing a viral dance across the web for a while now. And she hasn't stopped there.
Marzi recently released her first book, Introvert Doodles: An Illustrated Look at Introvert Life in an Extrovert World. Being an introvert author myself, I had the good luck to receive a review copy of the book.
Read on to discover my honest review of Introvert Doodles by Maureen "Marzi" Wilson.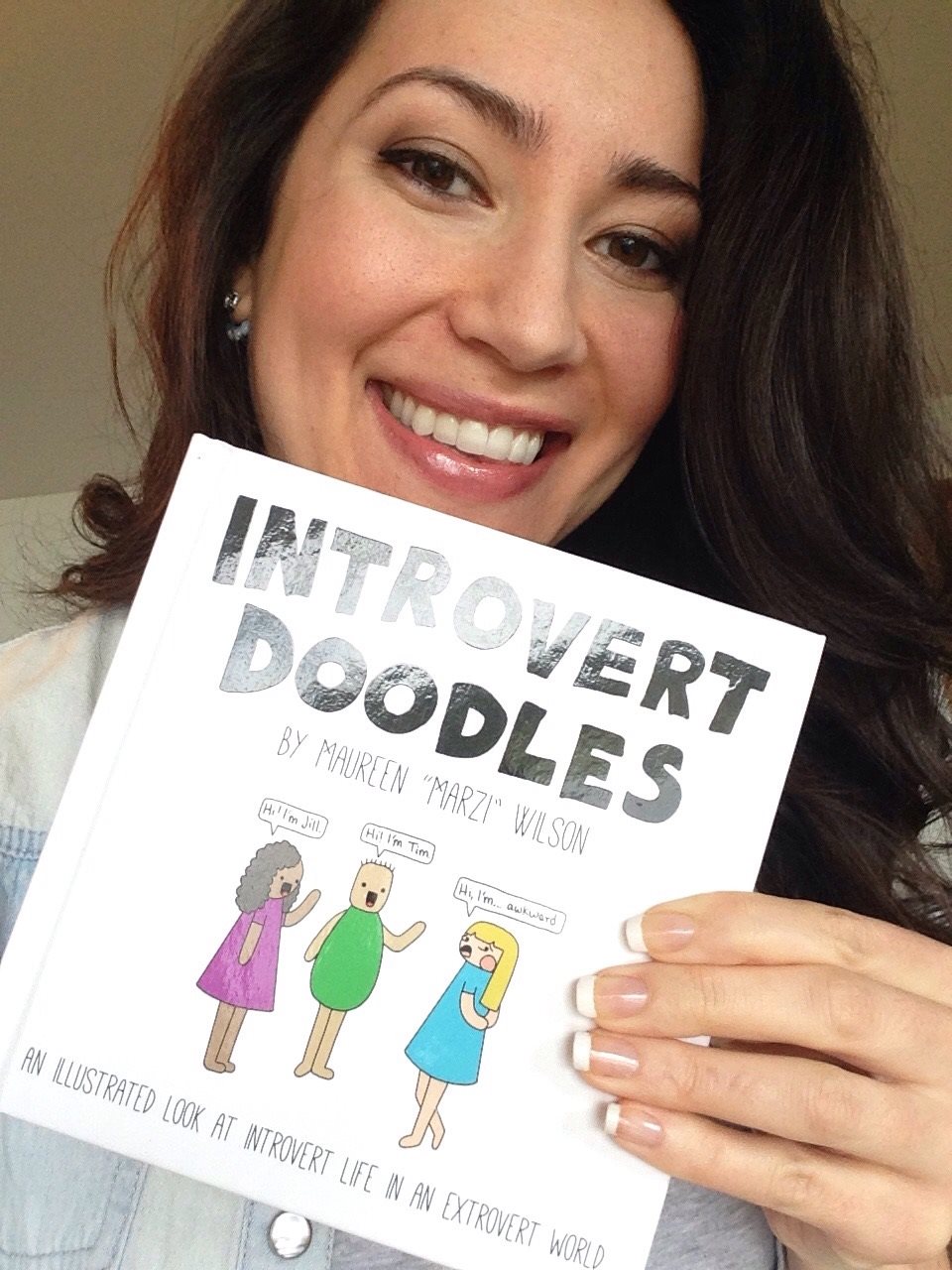 My honest Introvert Doodles book review + peek inside
Okay, so let's start with what this book is all about. Introvert Doodles is a colorful illustrated adventure through the eyes of a card-carrying introvert. Hold on tight, because Marzi is about to take you through all of our glorious idiosyncrasies, and quirks. You're sure to see yourself in plenty of the scenarios she draws into life.
Best of all, you'll enjoy many laughs along the way. This is not a serious, smartsy-fartsy kind of book, people! Introvert Doodles gives the world something much more important than a bunch of boring facts and research studies.
Through page after page of hilariously relatable scenarios, Marzi gives introverts the chance to lighten up a little. And she doesn't do it in a patronizing way, like when some obnoxious dude you just met says, "why are you so serious. SMILE!". Nope.
Through honest, heartwarming, and comical imagery, Introvert Doodles gives introverts permission to be exactly as they are. Not only that.
Marzi knows that the truth is easier to swallow with a sprinkling of laughter. Here is the truth that Introvert Doodles makes abundantly clear: introverts are adorably awesome … both in cartoon form, and in real life.
Now, I know what you really want.
You want to take a peek inside, don't you? I was hoping you'd ask, because I took the time to bookmark all my favorite images while preparing my Introvert Doodles book review. But as you'll see below, I had a lot of favorites!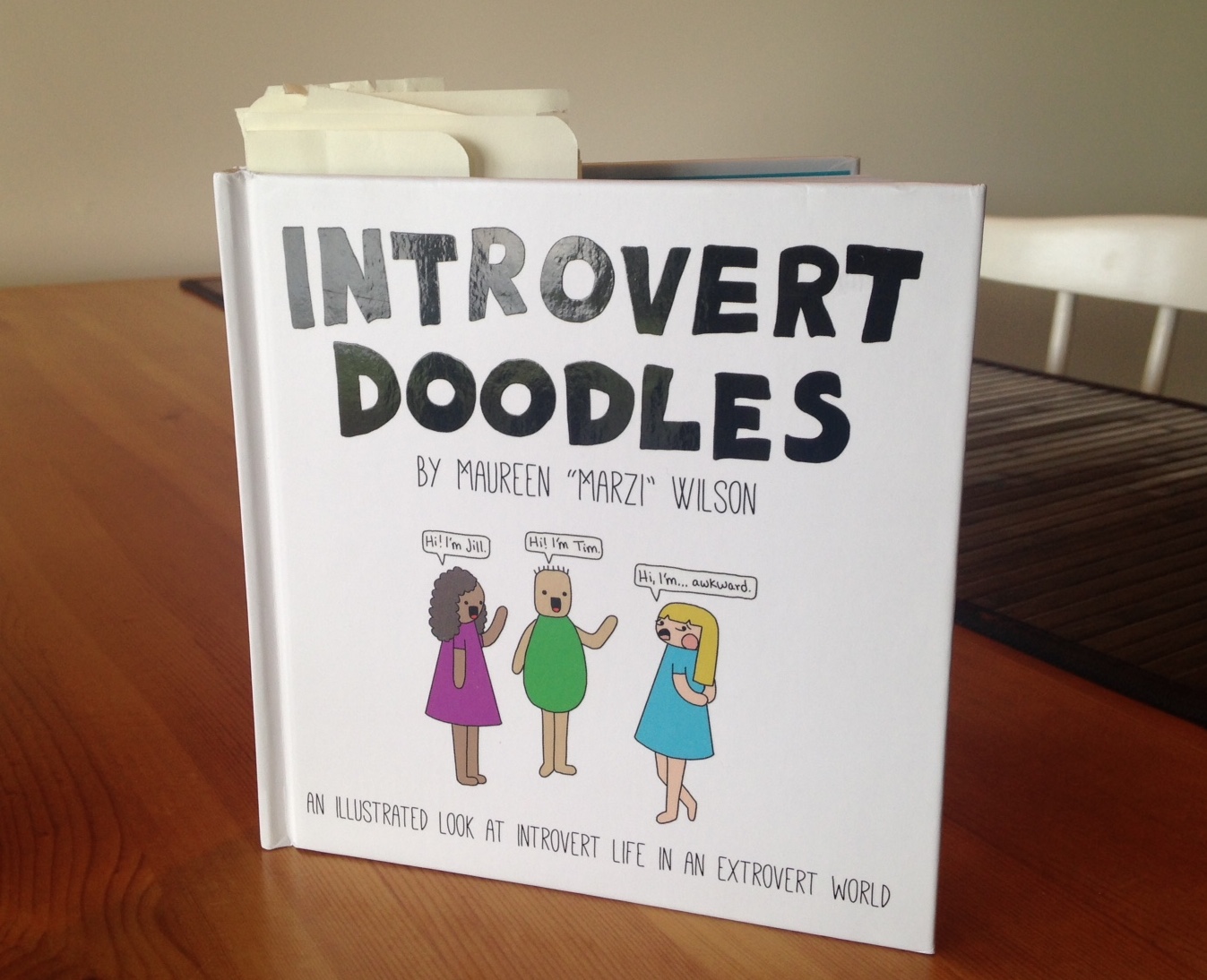 Since I'm pretty sure Marzi wouldn't be happy if I reproduced three quarters of her book here in my Introvert Doodles book review, I decided to narrow it down to four too-cute, and too-true images that I believe every introvert will applaud. Here we go.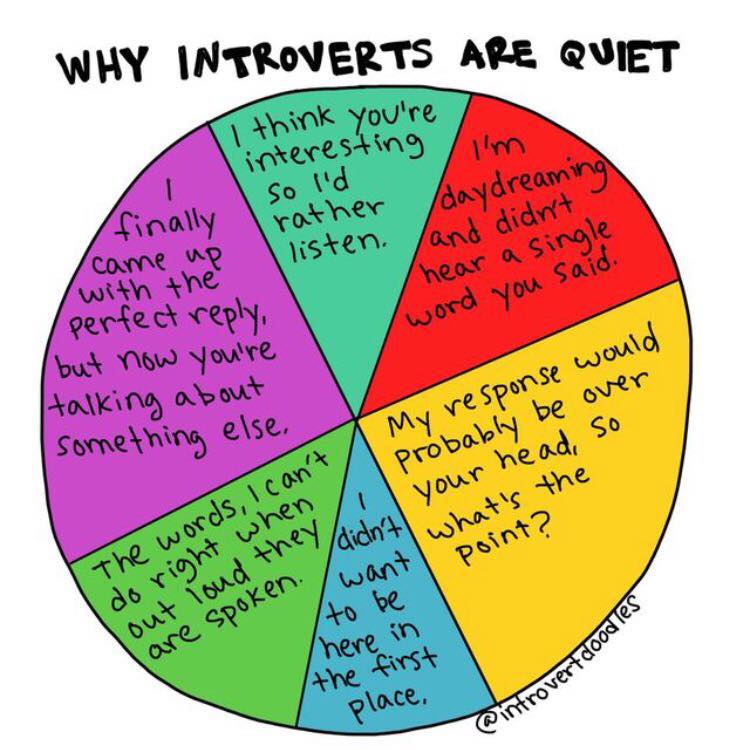 Every introvert has been asked "why are you so quiet" many times. This image from the Introvert Doodles book summarizes everything that we wish we could say during such annoying prodding. Usually, we just shrug our shoulders and stay silent. Maybe next time we can show them a copy of Introvert Doodles and they'll be the ones who go quiet!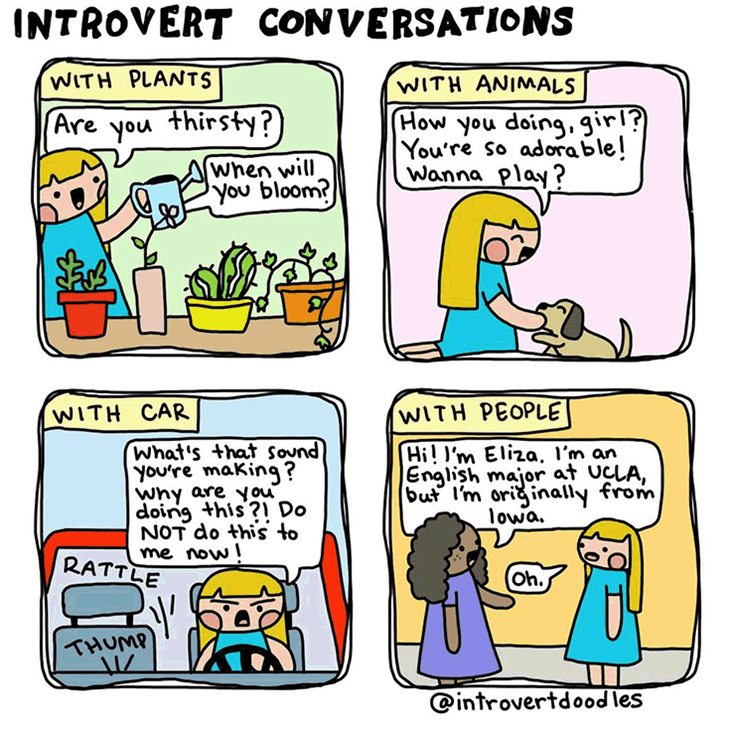 Yes! I have to admit that I can relate to this comic from the pages of Introvert Doodles all too well. I sing to my plants and love to cuddle with animals. Being open with people doesn't come as easily.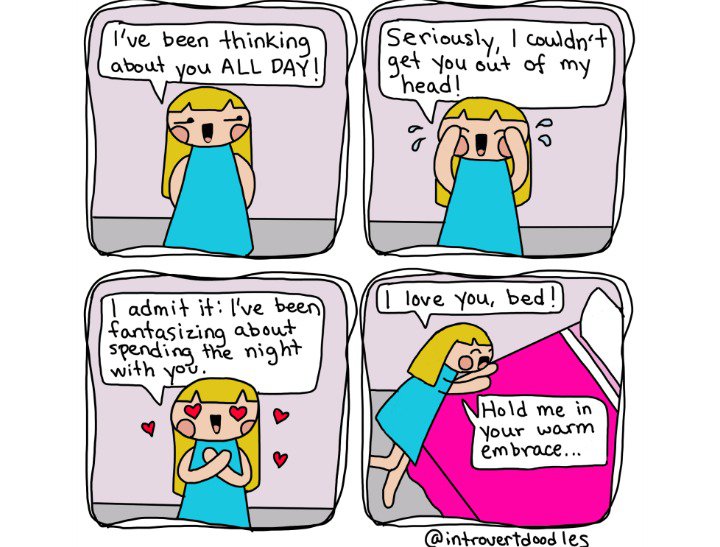 Oh, the secret love affair between an introvert and her warm cozy bed! This image from the Introvert Doodles book is too true. With all of the energy vampires that drain introverts throughout the day, our bed is both our sun and sanctuary. Its rejuvenating warmth brings us back to life. Time to finish this post quickly so I can go take a nap!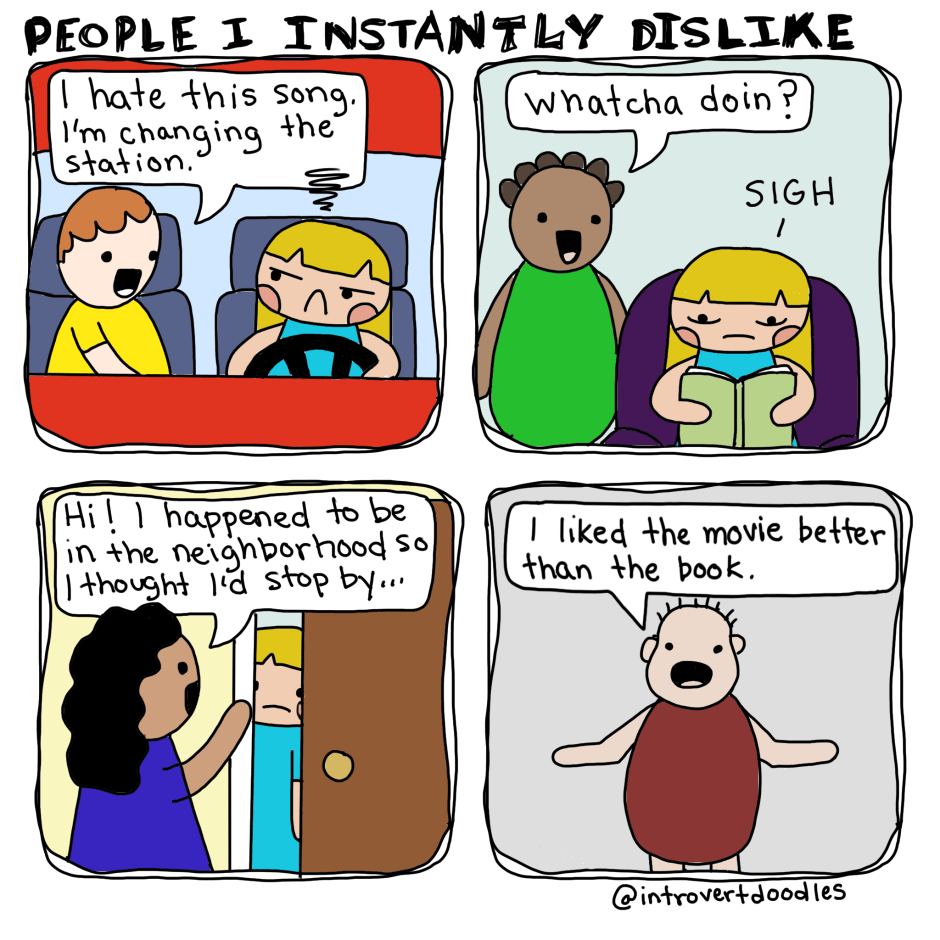 Oh, Introvert Doodles, you understand me so well! I swear, we introverts aren't snobs. Just please don't drop by unannounced, or interrupt us while we're having quality time with our fictional friends. It's for your own safety!
I hope you enjoyed my Introvert Doodles book review! Like I said earlier, these images are just a teeny tiny sampling of what you'll find in the book's 176 pages of illustrated awesomeness. If you want more, buy the book y'all.  😉
Lots of love,

P.S. Have you read Introvert Doodles, or seen some of Marzi's images swirling around the web? Let me know what you think in the comments below! I'd love to hear from you. 🙂