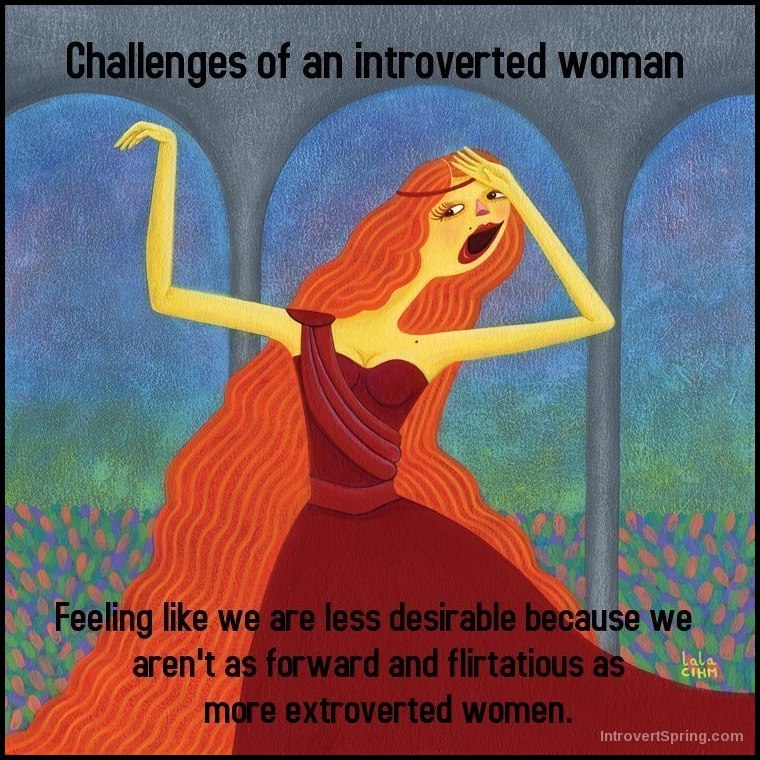 Illustration by Lala Hernández.
I recently read a humorous blog post entitled, 10 Types of 30-Year-Old Single Guys.  Most of the article made me chuckle, but a small portion of it made me cringe; the ideal woman in the eyes of "The Total Package" guy is described in this way:
"The woman fit for The Total Package will be the ultimate icing on his cake of perfection.  He imagines her often – gorgeous as they come, she turns heads; bursting with charm and charisma, she lights up every room she enters; she's a brilliant rising star in her career and beloved by her many friends."
Unfortunately for introverted women, this is a description that sounds far too familiar.  We are used to hearing men say that they are looking for a girl who is "bursting with charm and charisma". They want a woman who is outgoing, vivacious and the life of the party.
I sometimes think that these men are merely regurgitating the message they've received from others.  If actually presented with an introverted woman at her best and most authentic, many of these same men would forget all about the mythical, perma-smiling, Jennifer Anistonesque girl they had in mind. Instead of dreaming about a charismatic prom queen, they would be enthralled by the mysterious charms of an introverted woman.
Whether men acknowledge it or not, introverted women have many varied and wonderful qualities.  For this reason, I've decided to celebrate the virtues of the introverted woman with a written tribute.  It was difficult to capture all the delightful qualities that an introverted woman can possess in this short tribute.  If you'd like to add to my list, please do so in the comments section below.