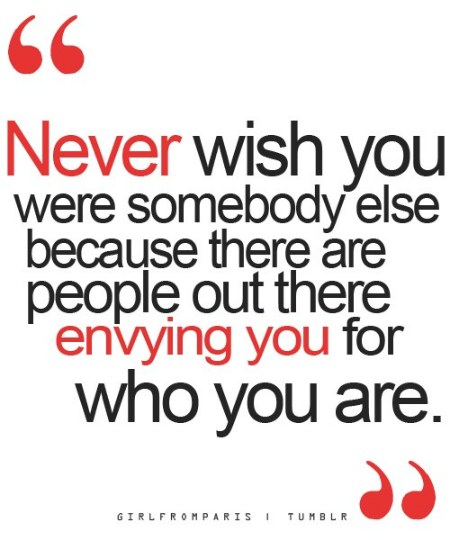 I've talked about most of the things that every introvert should know about jealousy.  But it occurred to me the other night, that I missed one important point.
While re-reading Eat, Pray, Love by Elizabeth Gilbert, the following quote really struck me:
"I've always been so fascinated by these wraith-like, delicate souls, always wanted to be the quiet girl. Probably because I'm not. It's the same reason I think that thick, dark hair is so beautiful – precisely because I don't have it, because I can't have it … Useful then, might be to accept how I was made and embody myself fully therein."
Could it be that all those years that I envied bubbly, talkative blonds, a few of them were envying me – the dark-haired, quiet girl?  Could it be that, as inherently flawed humans, we are all prone to look at what we're not, instead of the much more miraculous truth of what we are?
And what exactly are we?
We are quiet. We are sensitive.
We are human.
We are loud. We are talkative.
We are human.
We are slow. We are a few pounds overweight.
We are human. 
We are fat, skinny, pale, brown, black, beige, beautiful.
We are human. 
We are not here to be perfect.
We are all utterly lacking, and yet, we are enough. 
Because we are human. 
So, the way I see it, the best thing – the only thing – to do, is to take all that energy we might have invested in wanting to be someone else, and put it towards becoming who we were meant to be.