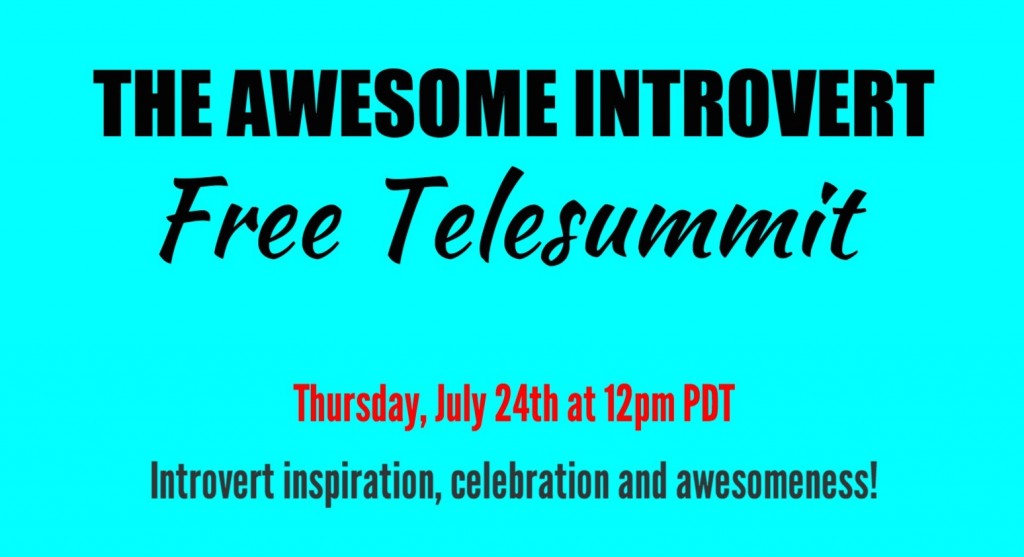 "The secret to life is to put yourself in the right lighting. For some it's a Broadway spotlight, for others, a lamplit desk." ~ Susan Cain
**THIS EVENT HAS ENDED.
Hello innie friend, Have you ever heard the saying "introverts unite (separately)!"? Well, now is our chance to literally do just that.  On Thursday, July 24th, introverts will be coming together (separately) for an exciting online event, which celebrates the awesomeness of introversion.  Because really, we are pretty awesome, and it's time for us to own it! The Awesome Introvert Telesummit is a live webcast hosted by yours truly (Michaela Chung) for the low low price of 100% FREE! The online event will be about 1.5 hours of introvert inspiration, celebration, and awesomeness!
I hope that you can join in on the fun.  If you can't make the live event, don't sweat it.  Everyone who registers will have access to the 24 hour replay.  BUT only those who join the live event will be able to participate in the Q & A session + have the chance to win cool giveaways.
Here are the details:
What: Awesome Introvert Telesummit
When: Thursday, July 24th at 12:00 pm PDT
Where: Online event
Why: Because introverts are freakin' awesome!
What you will learn:
How to embrace the power of quiet and use it to your advantage
How to stop caring what other people think and LOVE your introversion
Three essential tips for living life on your own blissfully introverted terms
*There will also be a Q & A session where you can ask me anything about introversion.  PLUS cool giveaways! If you're ready for some serious innie inspiration, click the button below to register for this FREE telesummit.  Space is limited, so please be sure to sign up.  Once you register, you will be sent a confirmation email containing a link to the event page.
  I hope to see you there!
Xo,