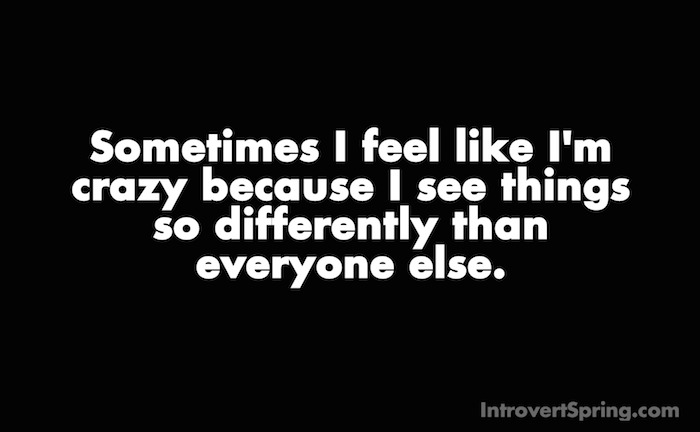 One of my Mastermind members recently shared the famous Apple ad "The Crazy Ones" with me.  I'd seen it before, but I was inspired nonetheless.
It made me think about the fact that a lot of the crazy ones in this world are introverts.  They are the ones who observe quietly while thinking deeply.  They are the outliers who don't fit in and don't want to.  They are the dreamers, the artists, the strange ones.
The ones who believe in magic.
The power of introverts
"I want to think again of dangerous and noble things.
I want to be light and frolicsome.
I want to be improbable beautiful and afraid of nothing,
as though I had wings." ~ Mary Oliver
No matter how reserved and humble an introvert may seem on the surface, he or she has infinite power within. Introverts really can change the world in our own quiet way.
What is holding you back?
Unfortunately, many introverts deny their greatest strengths in an effort to fit in.  They trade in extraordinary for just plain ordinary.  Why?  It's not easy being one of the crazy ones.  Visionaries, great thinkers, revolutionaries, and creative geniuses all have one thing in common: they simply don't fit into mainstream society.
When we look at the grand achievements of people like Gandhi, and Martin Luther King Jr., we imagine that they were always brave, and unstoppable.  We forget that they were human, too.  They faced criticism and ridicule because of their "crazy" dreams.  They had to learn how to not care what other people think, in order to pursue their big picture goals.  And the world is a better place because of it.
How to embrace your introverted crazy
Two roads diverged in a yellow wood and I –

I took the one less traveled by,

and that has made all the difference. ~ Robert Frost
People have asked me before how introverts can make a difference in this world while staying true to their introversion.  My answer: stop trying to be extroverted and decide today to develop your natural gifts instead.
Your calling in life is where your gifts + unique perspective + something the world needs collide.  It is very difficult to stumble upon that perfect combination if you're modeling your life after the extrovert ideal of normal.  Normal just plain won't cut it if you are one of the crazy ones destined for something greater (which I know you are).
So, embrace your crazy, visionary, not-at-all-normal self. Who knows what will happen.  Surely, nothing short of magic.