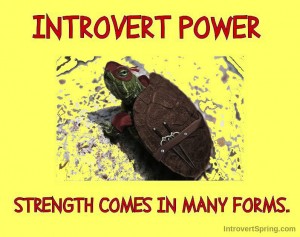 There are going to be some exciting changes here at Introvert Spring.  First of all, I will be doing a complete site redesign, which I hope will result in a more organized and attractive layout.  The new design will go live by the beginning of September (maybe sooner) – just in time for SUPER SEPTEMBER!
I know, it sounds cheesy, but I have a soft spot for alliterations (and turtles wearing capes).  During the entire month of September, I will be publishing a new blog post or infographic seven days a week.
I have already started brainstorming topics to cover, but I would really appreciate your feedback on what you would like to read about.  I will be posting questions on my Facebook page and Twitter to get a better idea of what to focus on.  I will continue posting new introvert memes as well.
I apologize ahead of time if the site is down for a little while or does strange things while I implement the new design.