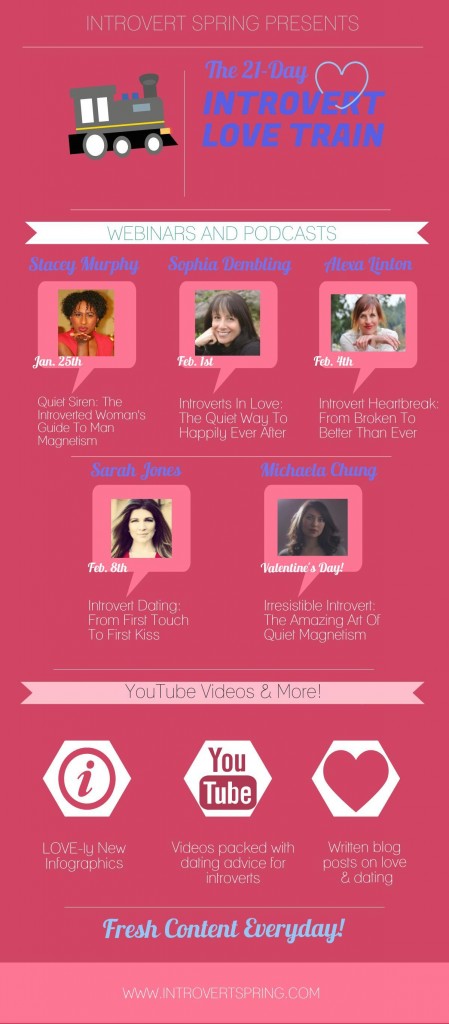 Hello Innie Friend,
If you are a single introvert, or if you're looking to improve the relationship you're already in – I've got good news for you! Introvert Spring is hosting a 21-Day Introvert Love Train starting Sunday, January 25th.  Come along for the ride and get juicy introvert dating advice from top love experts, including:
The Love Gurus
Sophia Dembling, author of Introverts in Love: The Quiet Way To Happily Ever After
Sarah Jones, dating coach for introverted men and creator of IntrovertedAlpha.com
Stacey Murphy, certified Intimacy Coach and Transformational Change Agent at BlissfulLotus.com
Alexa Linton, Body Talk practitioner and energy alchemist at AlexaLinton.com
Michaela Chung (that's me!), transformational introvert coach, writer and creator of IntrovertSpring.com
Infographics, YouTube Videos and More!
I'll be putting out fresh new content everyday, including brand new infographics, written blog posts and YouTube videos – all on the topic of introvert dating and introverts in love.
Hop on the train and get full access to the webinars by subscribing below.  Choo Choo!