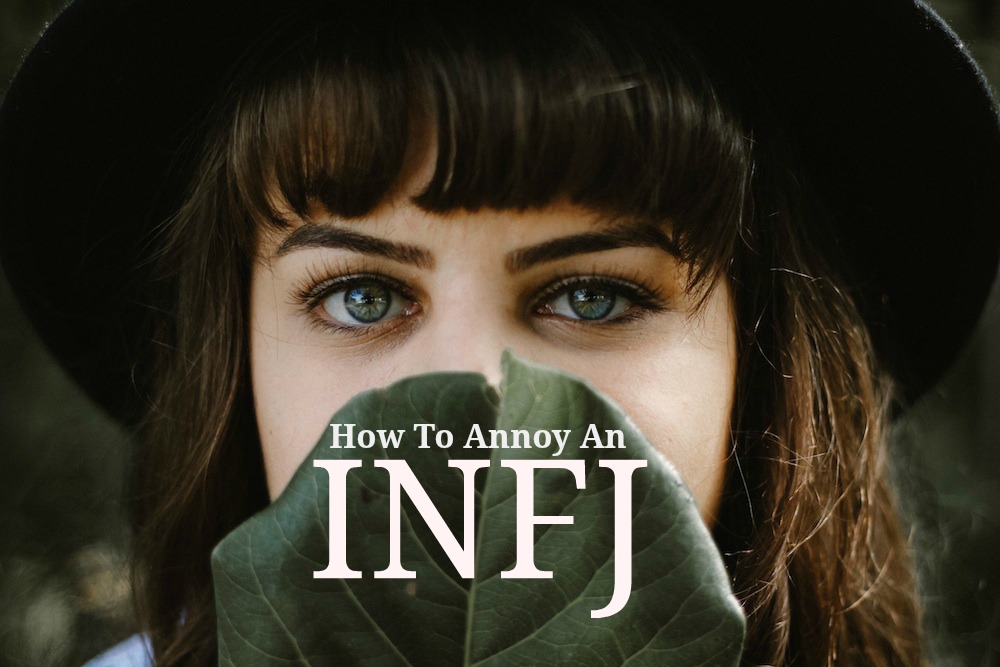 INFJs are not easy to annoy. We are peaceful by default and natural born diplomats. Our tolerance levels are off the charts … most of the time.
Even though INFJs can put up with a lot, some annoying moments can utterly overwhelm us. Our pet peeves are especially obvious at social events and gatherings. In these environments people push our buttons in all kinds of ways. The next 5 situations I'm about to share are the ones we INFJs wish we could avoid.
1. Dismissing our feelings and opinions.
There is nothing worse for an INFJ than when our opinions and feelings are discarded. We feel worthless and humiliated. The worst part? As a people-oriented personality, we genuinely value people. So when we face external dismissiveness and rejection we feel like we don't matter.
2. Making false assumptions about us.
Understanding as we are, it really bothers us when we face judgement. We start doubting ourselves, wondering what kind of impression we left. As a result, this one question flies around us like a pesky mosquito: "What did I do wrong?"
3. Picking on someone who is defenceless.
Seeing bullying of any kind throws us completely off balance. We simply don't and can't tolerate it. It doesn't matter if it's us who is being picked on or someone else. We are natural guardians. We just can't stand by and watch when we see injustice.
4. Not allowing us time to think.
As INFJs, we are internal processors. We need time to mentally digest what is being said. So, when someone rushes us, our reaction, of course, is annoyance. The feeling of being pressured to make speedy decisions is even worse. We like to carefully think things through before acting. Give us some time to decide, please!
5. Trying to manipulate us.
It annoys us when others force us to do something that goes against our beliefs. Add lying to the picture and you got yourself a shortcut to an INFJ Door Slam. We value honesty and respect, so manipulation is an easy way to get on our bad side.
How to react in these annoying situations
There's no easy solution, but you have to stay calm and be selective. Quality over quantity is one of the golden INFJ rules. Carefully select the event you will participate in, as well as the people with whom you will surround yourself . Staying calm will enable you to make rational and thoughtful decisions.
If you experience these scenarios at work, then maybe it's time to make some changes. Remember, there is nothing wrong with standing your ground. What's important is that you do it in a calculated and a peaceful manner. After all, we are not called peacemakers for no reason.
There will always be people who will judge you no matter what you do. Do what you believe is right anyway. The key is to rise above the situation and master your own thoughts and emotions. If I've learned anything about my INFJ personality, it's that we are champions of self-control.
You have all the necessary qualities within you. When you experience what I wrote in this article, remember who you are. Remind yourself of your value. No one can take that away from you, no matter how much they try.
Over to you, friend
What are the situations that annoy you the most fellow INFJ? Can you relate with what I shared here? Do you have anything to add that I missed? Feel free to share your thoughts in the comment section below, I would love to hear from you! ☺
Xo,
Marko
P.S. If you're interested in connecting with other INFJs from around the world, join Introvert Spring's free private INFJ forum. With 8000+ members, we are truly a buzzing community! Join today, and you'll receive our 20-page INFJ Relationship guide as a gift. You'll also gain access to unique INFJ blog posts, infographics, and webinars.