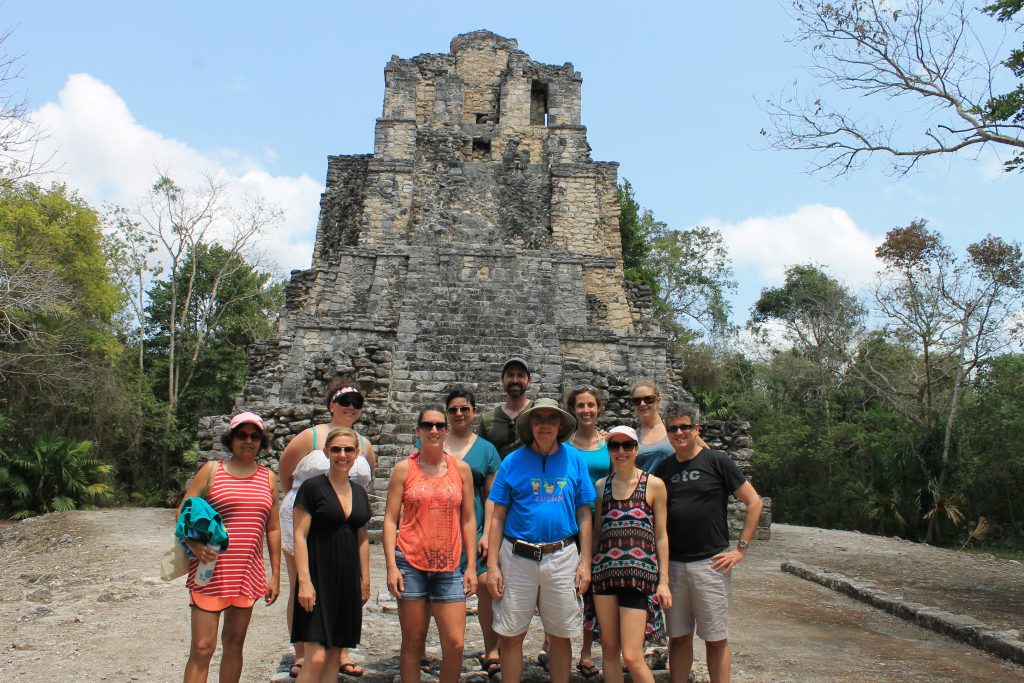 Whenever I tell people I'm going on an introvert retreat, I usually get a response like this:
"Umm … so what are you gonna do? Stare at each other in silence?"
To which I scoff, "introverts can be sociable and adventurous! We just like to do things on our own terms."
As much as I know this to be true, I really wasn't sure what to expect when I went on my first introvert retreat in Tulum, Mexico last year.
Would it be awkward?
I wondered if it would feel awkward. Would the 12 participants get along?  Would I get overwhelmed and want to run and hide like I usually do during group travel experiences?
I have to be honest, the retreat wasn't all sun, sand, and margaritas. A lot of personal growth and healing took place during the 6-day getaway.
Take the first day for example. The group warmed up to one another surprisingly quickly during the meet and greet, and subsequent dinner; yet, midway through the meal I felt a familiar feeling creeping in.
Overwhelm began to set in, and I knew I had to escape. I slipped away to my room without any explanation, something I've been known to do when my social batteries are depleted.
Feeling overwhelmed was nothing new for me, but the reaction from the group was.
The next day, no one seemed to care that I had snuck away. Everyone just got it. It was the same when I went quiet, or wandered away from the group at various times.
The other participants let me be my introverted self without judgment, and I returned the favour. No words can express what a healing experience this was after years of being chastised in group situations. That doesn't mean that we didn't connect with one another. Far from it.
I had many interesting and in-depth conversations with the other participants. Many of them said that they had never connected so easily with strangers.
One phrase in particular kept coming up, especially during our nightly discussion circles:
"I feel safe"
Several participants expressed how safe they felt with the group. They felt comfortable sharing their thoughts and feelings, and being their authentic innie selves. Unfortunately, that is a rare experience in the extrovert oriented world we live in. Here are some pics from the introvert retreat in Tulum (click the little arrows below the first photo to view all images):
Luckily, Melissa Renzi, coorganizer of last year's Tulum retreat is providing another opportunity for introverts and sensitive souls to connect, heal, and be inspired during a one-of-a-kind vacation experience.
Ready for an introvert retreat?
This July 29 – August 24, 2018 Melissa will be leading an introvert retreat in Puerto Morelos Mexico. This retreat is for introverted and highly sensitive adventurers who want to explore and expand on their own terms, without overwhelm.
It's also right for you if you like connecting with others while traveling, but want to have the freedom to wander off on your own and recharge without the guilt.
Here are a few more reasons that an introvert retreat in Puerto Morelos, Mexico is right for you:
You want a retreat that helps you grow, and expand as a person WITHOUT leaving you exhausted and overwhelmed
You're interested in yoga, meditation, and heart-expanding discussions
You're a thoughtful traveler, interested in cultural explorations, such as exploring Mayan ruins
You're ready to renew your soul with the cool, cleansing waters of magical cenotes
You want to have the option to be alone for a while, without feeling 'weird' or 'anti-social'
You want to connect with a small group of 12-16 people who share your gentle, but adventurous nature
You're excited by the idea of expert guides taking care of organizing the explorations, and adventures, so that you can relax and enjoy every moment without overwhelm
I have to warn you, this retreat is just around the corner and it's filling up fast. Melissa has offered a special discount of $50 off for the Introvert Spring community.
If you're at all interested in joining this year's introvert retreat to Sacred Valley Peru, I recommend that you follow the below steps asap:
1) Go here to read all the retreat details  and decide if this introvert adventure is right for you.
2) If it's a 'yes', click the shiny green button to reserve your spot or contact the organizer to ask questions.
3) Use the promo code INTROSPRING50 to get $50 off. Registration closes March 31st.
Xo,