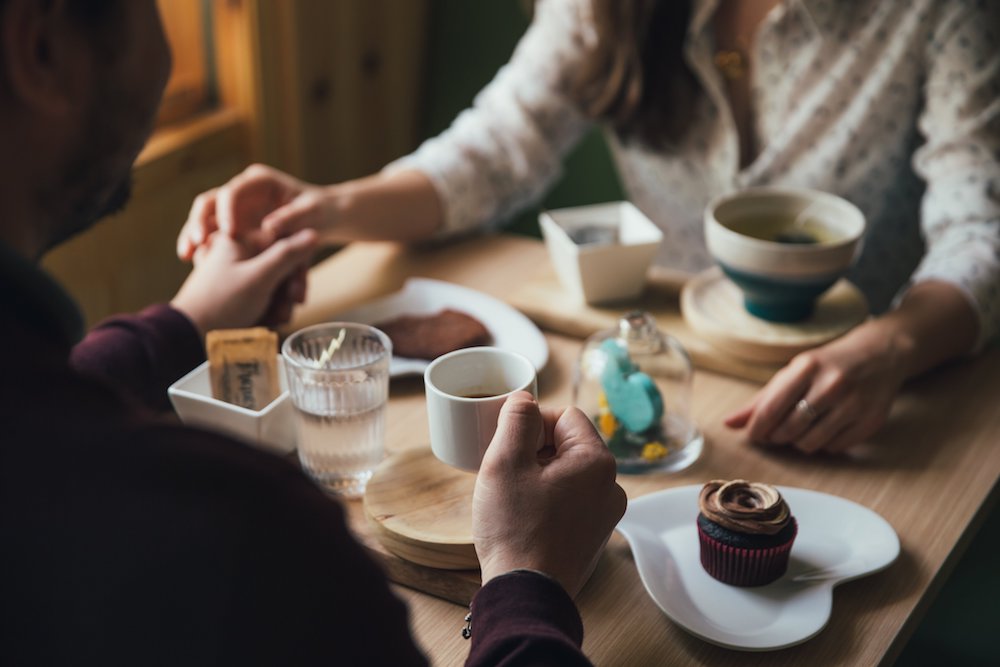 If you're a single introvert looking for love, you've probably felt discouraged. You try to follow the dating advice people give you, but there's a problem. None of it addresses the unique struggles you face as an introvert. There just aren't very many people offering dating confidence tips for introverts.

Nobody's addressing how overstimulating and draining traditional dating is for introverts.  No one's acknowledging your insecurities about being too quiet and boring to be attractive. They're not telling you how to flirt and have fun conversations when you're easily tongue-tied.

As an introvert who's dated a lot, written a book on introvert charisma, and consulted with top dating and intimacy experts, dating confidence tips for introverts is kind of my specialty.

I recently had the privilege of sharing my best introvert dating advice during Agape Match's monthly webinar, Lunch Break With Maria. You can watch the interview here.

In the meantime, here is a summary of some of my best dating confidence tips for introverts

Put yourself in the right frame

A beautiful painting needs the right frame, and so does an introvert. For most introverts, busy, loud environments like bars and clubs don't allow you to convey your best qualities. They also drain the heck out of you.

Put yourself in places where you can actually hear yourself think, plus showcase your passions and talents. Partners dancing, nature walks, poetry readings, intimate dinner parties, paint nights, and other low-key activities will put you at ease and allow you to shine.

Stop hiding your light

Did you know that it takes just as much energy to send out attractive vibes as it does to send out 40 Year-Old Virgin vibes. Think of it this way…

Imagine you have a flashlight casting a beam of light in a dim room. Now, imagine placing a piece of fabric over it. Hardly any light comes through, but the flashlight is still doing it's job. It's still using the same amount of battery power, even though you're blocking the light.

It's the same with your vibe. You already have an innate charisma and sensuality that is highly attractive. You just need to stop hiding it. Which brings me to my next point.

Convey your attraction

We're not in fifth grade anymore. You don't have to be secretive about who you're crushing on. If you feel attracted to someone, in most cases (best friend and boss excluded) it's much better to convey that attraction than to hide it.

Luckily for introverts, there are subtle ways to show your interest, even if you're shy. If you had fun on a date, let the person know how they made you FEEL by saying something like…

"Wow, I feel so comfortable with you. I really feel like I can be myself."

"I have so much fun with you. I feel like a kid."

"I feel good when I'm with you."

These are all subtle, low-risk ways of saying, "I like you".

Stay present

Introverts have a habit of overthinking things. It's really easy for us to get so wrapped up in our own worries that we forget the most important flirting tool: presence.

Yep, being truly present in conversation will make you instantly likeable. It will also help create a spark, because being in the moment makes those around you feel alive.

Before you go on a date, take a moment to centre yourself with some deep breathing. I like to say a mantra, such as "I am here now." When you're with your date, tell your busy brain to shush, so that you can truly listen and connect.

After all, you put your phone on silent during a date, knowing that you can check the notifications later. It's important to do the same thing with your thoughts. Mute the mental noise until the end of the date.

Talk about emotional topics

Don't get me wrong. You don't have to share stories about your sad childhood.

Here are some examples of the right kind of emotional topics to talk about on a date:

dreams – what's something you always wanted to do?
passions  – what do you love to do outside work?
motivations – what made you decide to do that? How did it feel?
experiences – adventures, travel, new experiences, experiences new to YOU (I've never been on a retreat before, what was that like?)
There's so much more I could share with you. Which is why I put together two free guides that you can download below:

First Date Checklist For Introverted Women

Lessons in Magnetism For The Introverted Man
Love,